Takeaway Foods of Rick's Place an Italian Restaurant in Melbourne
Looking for a food take way food with the best Italian Restaurant in Melbourne? Here at Rick's Place we offer delicious Italian foods for take away. Our menu is served perfectly to suit your taste. We offer exciting dishes for you to enjoy. It Will shiver your freshly discover love in Italian foods.
We have a lot of positive reviews in Zomato on how our delicious meals was served.
Why not grab your takeaway and enjoy a sunset meal at a quiet home? For to be more relax Rick's place is coming at your door with our best meals.Order high-quality take-away from top Modern Australian Restaurants. Call us today at 0393762112 for fast delivery straight to your home.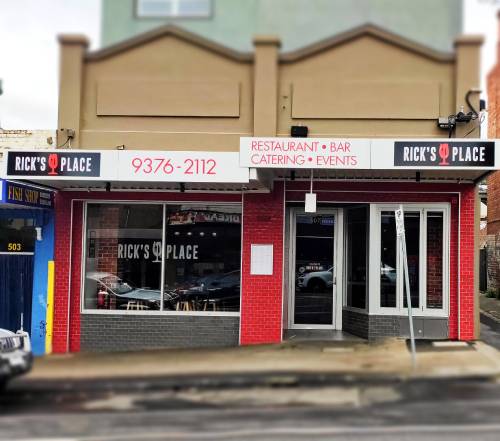 MEAL DEALS FOR LUNCH OR DINNER – FOOD TAKE AWAY IN MELBOURNE
3x Pasta (Matriciana, Carbonara or Funghi) & Garlic Bread $50
2x Seafood Spaghettini or Seafood Risotto & Garlic Bread $52
Any 2 Wraps & Zeppole Italian Doughnuts $37
2 Parmas or Eggplant Moussaka & Zeppole Doughnuts $43
Family Deal: 2 Parmas, 1 Moussaka,1 Beef Burger & Zeppole $80
Couples Deal: 1 Open Souvlaki & 1 Salt & Pepper Calamari $39
Seafood Lovers: 1 Pan Fried Fish & 1 Garlic Prawns $42
2x Porterhouse Steak & 1 Italian Doughnuts $70
1 Parma or Open Souvlaki & 1 Penne Napoli $31

PICK UP ONLY (PH) 9376-2112
A LOCAL SUPPORTING LOCALS INITIATIVE
MON & TUES - Closed
WED & THUR - 5pm - 9.30pm
FRI & SAT - 12pm - 3pm & 5pm - 9.30pm
SUN - 5pm - 9.30pm
Make a Booking
We can't wait to see you! We're taking bookings for after October 26th.